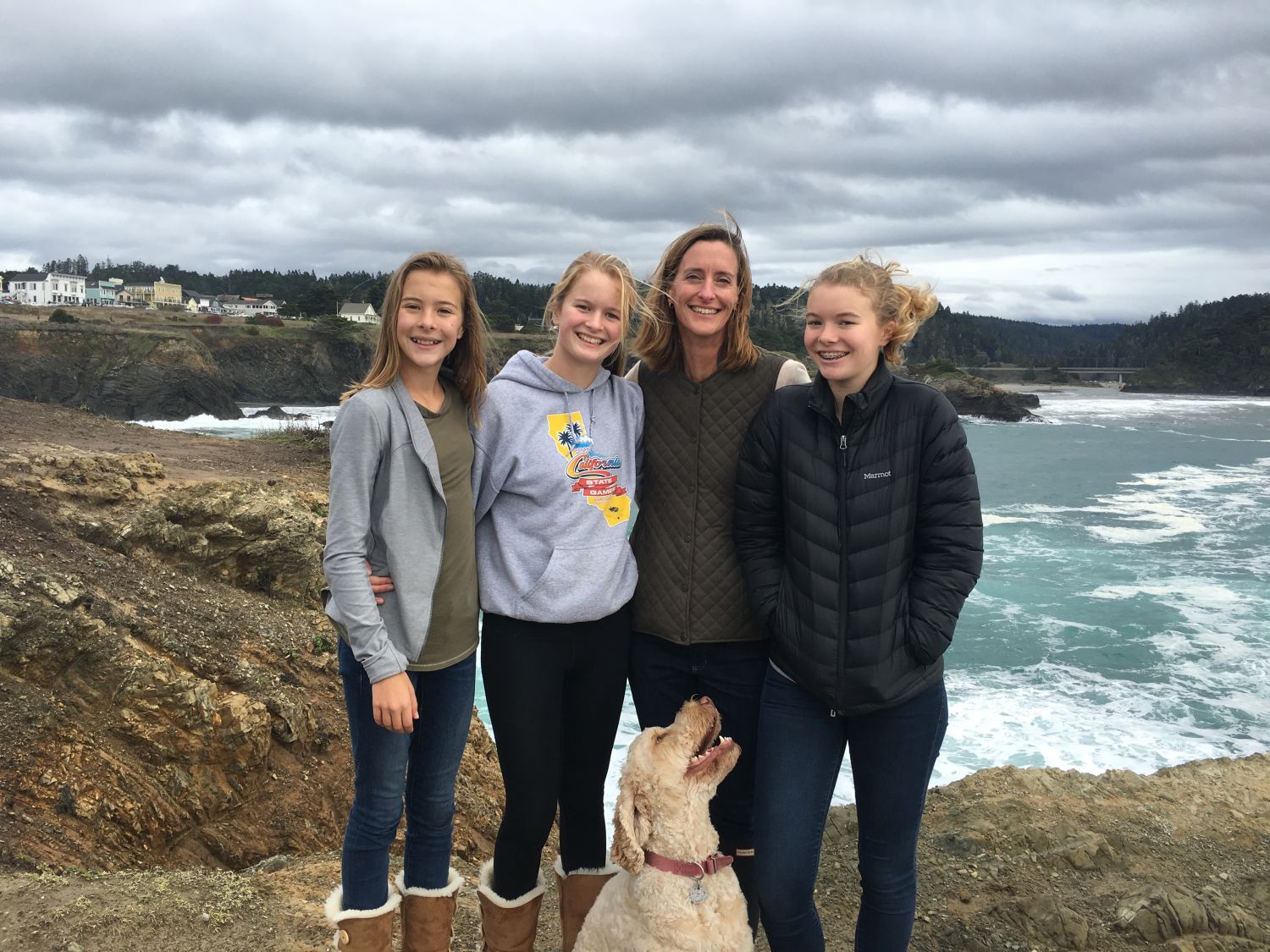 The Traits That Matter
To my beautiful daughters Elena, Amelia and Alexa,
As I reflect upon my life and what advice I would give I realized it is human traits and experiences that matter most because they are what have shaped who I am, what I've done, and what I care about most. They transcend all aspects of my life in motherhood, family, friendship, career and community.
When I was growing up, I moved around a lot. In third grade alone I went to three different schools between Pennsylvania and New Jersey. By the time I got to college, I had been to eight different schools. That was hard…really hard. I was always the new kid in town and often I was "different", a "Yankee", the "geeky" girl, the "ballet" girl, the "tall" girl, etc… I constantly had to make new friends, assimilate into a new school, join new sports teams, and generally try and fit in. At times it was fun, exciting, everything was always new and yet sometimes it got old and tiring and I just wanted to grow roots. However, those experiences taught me a lot.
They taught me COURAGE, to put myself out there no matter which rejections I might receive, the ridicule that sometimes came behind my back and the exhaustion from the exertion. I knew I had to do it if I wanted to make new friends. It taught me to be OPEN and KIND to all sorts of people regardless of their background, ethnicity, or family life because everyone has something to offer and often kindness comes from unexpected places that you can't foresee. I learned that being kind brings so much more happiness in life than being closed and territorial. My mother is an incredible role model in this regard because she exemplifies openness and kindness towards everyone. She has always said to respect the dignity of all people and not just those in your own circle. They are wise words.
Moving around a lot also taught me not to be afraid to BE YOURSELF. At times it seemed easier to fit in if I changed my stripes a little bit. Every time I tried, I felt like a tiger in elephant clothes…it didn't feel right and it usually ended up not working out well. Learning to be myself has been integral in my professional career. As a woman in the investment management business I am automatically different. It hasn't always been easy. Early on in my career, I didn't dwell on being a woman in a "man's world", I just focused on building my skills, learning, doing the best I could, advancing my career, and to a certain degree growing a thicker skin. I think it was part of a coping mechanism, to shut out what I couldn't control and focus on what I could. It wasn't until later in my career that I realized the importance of being different, supporting diversity, and being human.
Bringing diversity and a different perspective leads to better investment decisions and supporting it brings a higher level of satisfaction and sense of accomplishment. Watching younger women (and men for that matter) in my business grow and flourish has given me immense joy and purpose. Be true to yourselves and you will have a greater level of success and happiness. Embrace yourselves, be proud of yourselves, and as your great grandmother says, "Don't be a sheep." And know that you will always have an army rooting for you.
GRIT and DETERMINATION are critically essential. Life is going to throw you curve balls that aren't in your game plan and you will have to learn how to deal with them. They're not always pleasant but they are an integral part of growing and learning. In high school I loved rowing more than anything in the world…it was my true passion. From one of the best prep schools in the country I applied to seven colleges and got into only one, which I had never even seen, all the way in Oregon. I was humiliated and devastated as I watched my friends open their large envelopes to all the schools I would have loved to attend. Off I went to a small college in Oregon, sight unseen, where I was told there was a crew team. When I arrived I discovered there was no team. I lifted my head up and with another student established the rowing program. It was a wonderful experience and yet I wanted more.
So I decided to transfer and got into my dream school…Brown. The funny part was I hadn't even looked at Brown the first go- round so there must have been a little serendipity in the adventure. I was in seventh heaven; I was able to row on one of the best teams in the country on the varsity boat. Rowing is a grueling sport, but there was something about it I couldn't get enough of. Then my senior year my coach decided to seat race me thirteen times! A rower in the JV boat was lucky to get two to three seat races a season, it was their chance to make it into the varsity boat. I couldn't understand why my coach didn't want me in the varsity boat. It felt like a sucker punch believing MY coach didn't believe in ME. Yet I wanted to be in that boat more than anything so I went to practice every day knowing I would have to give 110%. At times I wanted to quit, and yet I couldn't because I loved my sport. That was where I learned grit, perseverance, and determination. I learned more in that boat than I ever did in a classroom.
Those traits have been invaluable in my career as they have enabled me to overcome many obstacles including times when some didn't believe in me. Thankfully I had two very influential mentors at work. They may have pushed me at times but they were steadfast in their support and never gave up. For them I am forever grateful. I am incredibly fortunate to have two of the best parents alive…yes I know that's biased but you have to agree that SueSue and PopPop are pretty great. They gave me my MORAL COMPASS. They taught me as role models. Together they showed me what real character is based upon; honesty, trust, integrity, hard work, loyalty, acceptance, love, compassion and kindness. That compass guides me in every decision.
There have been several times while managing my fund that I made investment decisions that went completely against the grain. Pressure from the executive team and board were unbelievably intense to the point where the possibility of losing my job was real. I stuck to my convictions because I believed it was in the best interest of my shareholders. It wasn't easy, in fact it was terrifying to go against the mainstream and management. It was my unwavering moral compass that gave me the strength to make and defend those difficult decisions. Thankfully it worked out. Establish your own moral compass and it will guide you in making tough decisions you believe to be right and for the good.
Through these life experiences and surrounding myself with supportive family and friends I have been able to build CONFIDENCE. Confidence is a funny thing because it can often be elusive and yet it is one of the most important characteristics. I must have had a certain amount in childhood otherwise I wouldn't have had the courage to be myself, be different, and put myself out there. Yet, I don't think I gained real confidence or got comfortable in my own skin until my forties. It took a while.
I believe confidence is built over time. It comes from trying new things, from failing, picking yourself up, moving forward and succeeding. Don't underestimate the power of failure; through it you learn and find success. Confidence is an enabler. Confidence is making the decision to become a mother and choosing to be a stay-at-home parent or have a full-time career. Confidence is asking for a promotion or a raise, walking into a boardroom explaining why you're sticking to your contrarian conviction, or telling your boss you need to go home at 5 p.m. because you have to pick up your kids. Having confidence will open many doors and yet without humility it can be complicated, so remain humble.
The other vital aspect of confidence is surrounding yourself with people that have your back no matter what. Choose your friends and life partner wisely. Your father has been my closest ally, my biggest advocate, and my loudest cheerleader even during tough times. Without him I wouldn't be where I am today nor would I be blessed with three gorgeous daughters. You are three incredibly intelligent, tenacious, beautiful girls with talents and abilities that are unique to only you. Life is a long, fun and at times challenging adventure. It is how you respond to those challenges that will shape who you will become. Be confident. Your wings are strong and steady; don't be afraid to rely upon them even when you doubt them. When you combine being open and kind with courage, determination, your moral compass and confidence, it will enable you to live your life to its fullest potential. During your journey, don't forget to stay positive, have a sense of humor, and that we are all perfect in our own imperfectness. Know that your father and I will always be your greatest fans and loudest champions. I can't wait to see what paths you choose, the opportunities are endless given your intellect and talents and the world will be a better place with you in it.
With all my love,
Your Mother
Serena Perin Vinton is a senior vice president and portfolio manager with Franklin Equity Group and portfolio manager of Franklin Growth Fund.
Share